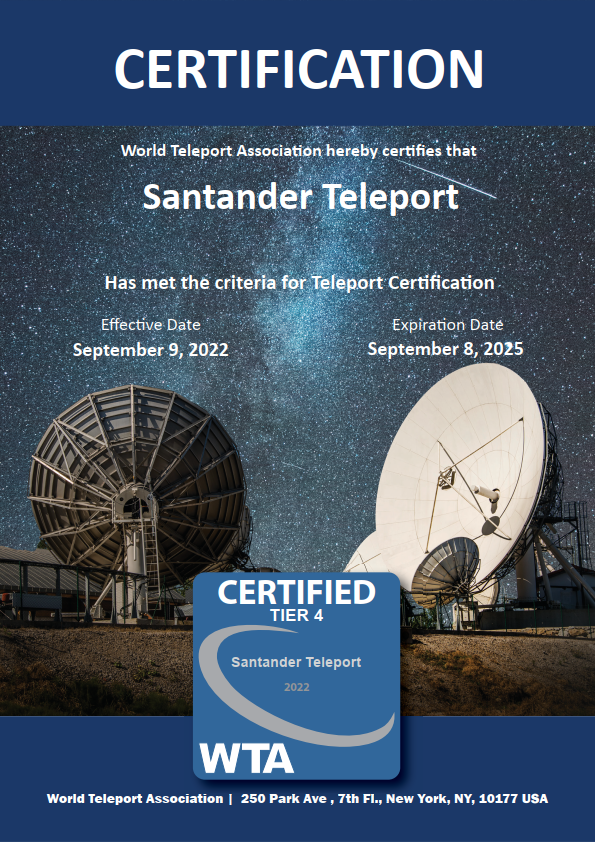 The World Teleport Association (WTA) has renewed the certification of Santander Teleport and noted an improvement to Tier 4 under WTA's Teleport Certification Program, following an audit of the facility by the association.
Since its introduction at IBC 2015, the Certification program has quickly grown in popularity. The program has added 40 teleports in 3 years, and currently has 12 teleports engaged in the quality evaluation process. Certifications have been issued to teleports operated by Azercosmos, RADIOCOM, IABG Teleport, Servicio Satelital, A1 Telekom Austria, Hellas Sat, USEI, AXESS Networks, STN, Eutelsat, du, COMSAT, Optus, Talia, Telespazio, Vivacom, Cyta, Singtel, PlanetCast, Horizon Teleports, Etisalat, Satellite Media Services, Hawaii Pacific Teleport, Intelsat, Speedcast, Telstra, Primacom, Santander Teleport, Orange and Arqiva. The industry has quickly adopted the transparent, independently verified standards as a means for teleports to differentiate themselves and for customers to choose the price-performance level suitable for their applications.
To achieve Provisional Certification, a teleport operator completes a +170-item questionnaire and submits it to WTA. The Association analyzes the data based on standards established by its Certification Committee and issues the Provisional Certification based on the self-reported information. The teleport then has six months to achieve Full Certification. To achieve Full Certification under WTA's program, an auditor is dispatched to visit the teleport, provide independent validation of the data submitted in the questionnaire, and identify additional factors that may positively or negatively affect the score. Full Certification is issued at a Tier number from 1 through 4, of which 4 represents the highest degree of excellence, and remains in effect for 3 years.
"We have worked really hard during the last three years to step up to the challenge of becoming a Tier 4 teleport operator," said Monica Delgado, CTO of Santander Teleport. "We have invested in our infrastructure and processes and learnt from the valuable advice that the WTA, its auditors, our customers and also our government users have provided to us. We want to continue growing and we already know some key areas where we want to improve. It is all about continuous improvement and a transparent and honest approach to our daily work".
"By awarding Tier 4 Certification to Santander Teleport," said WTA executive director Robert Bell, "WTA is accomplishing the most important goal of the Certification program: not just to measure the factors that make for high quality of service, but to motivate improvement. We look forward to helping other teleport operators raise the quality of their facilities and procedures to better serve their customers and grow their businesses."