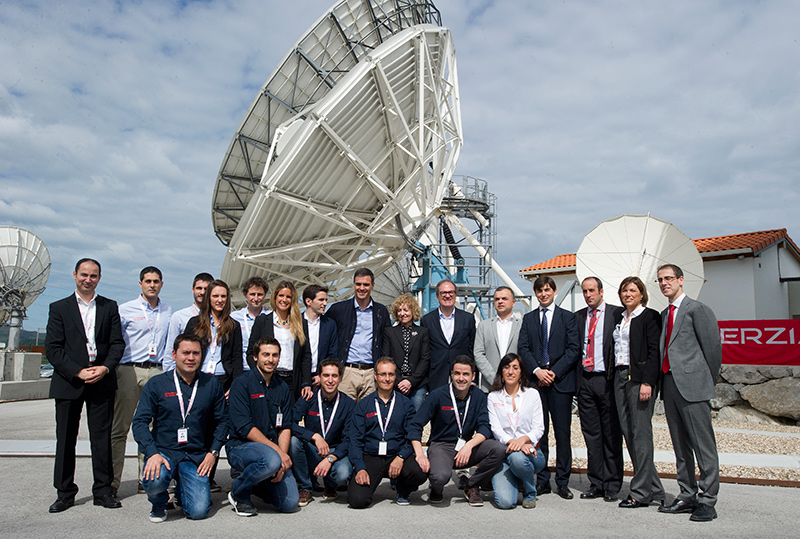 Santander, Spain – May 9th. – Mr. Pedro Sanchez, Presidential Candidate to the Spanish Government and General Secretary of the PSOE Party, visited Santander Teleport yesterday morning. The Federal Political Campaign started yesterday and will last two weeks being the Elections on May 24th.
The PSOE Party started its Campaign in Santander, where Mr. Sanchez asserted that he was "grateful" for this "illustrative visit" and stated that he would like to "bet on a production model based on science, investigation and innovation".
Mr. Luis Garcia, Santander Teleport´s CEO, along with Mr. Javier Gonzalez, Chairman of the Board, and the management of the company, introduced the company to Mr. Sanchez and the Federal authorities of his Party, from the beginning as an example of successful collaboration between Erzia Technologies and Maritime Telecommunications Network to the current situation, being a state of the art facility with an 84% workforce of Telecom Engineers from the local College.
The visit continued in the Network Operations Center, where Mr. Sanchez felt impressed before MTN´s network, procedures and excellent service provided by the team of Engineers located at the Santander Teleport. After visiting the antenna farm, where the visitors had the opportunity to see maritime antennas in testing mode, Mr. Sanchez and his team spent some time taking pictures with the staff of the Company.
SANTANDER TELEPORT, a joint venture between ERZIA Technologies S.L. (ERZIA) and MTN Satellite Communications (MTN), is a satellite teleport which serves as a centralized gateway for MTN's VSAT communications with coverage over the Americas, Europe, and Asia. The facility is located in Santander, North Spain.